Richelieu Domiciliation is ideally located at 23 rue de Richelieu in the 1st
st arrondissement of Paris.

We are in the heart of a golden square, between the Opera Garnier, the Bourse (French stock exchange), the Conseil d'Etat, (French Council of State, highest administrative jurisdiction) and the Louvre Museum.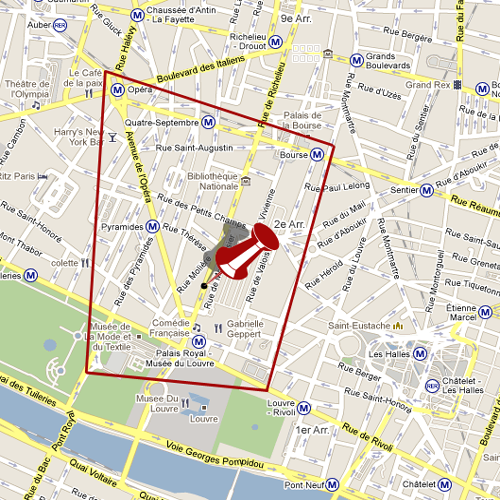 Rue de Richelieu was named after Cardinal Richelieu, prime minister of King Louis XIII. This street was opened in 1633, when Richelieu achieved the extension of the Palais Cardinal.
La première partie de cette rue a été ouverte le 23 novembre 1633 entre les actuelles place Colette et rue Feydeau, alors porte de Richelieu.
Le 18 octobre 1704, la porte de Richelieu ayant été détruite en 1701, la partie situé entre l'actuelle rue Feydeau et les Grands Boulevards est ouverte.
Cette rue prit successivement les noms de :
rue Royale à son ouverture en 1633,
Rue de Richelieu

shortly after,
In 1793, during the French Revolution, she was named

Rue de la Loi,,
In 1806, it was named again

Rue de Richelieu.

ieu

.
The street begins with the squares Colette and Andre Malraux, where stands the Comedie Française, and ends at Les Grands Boulevards, then changes names for Rue Drouot. On its west side, Rue de Richelieu runs along the Palais Royal gardens which are accessible by four passages from the street.
You can find there:
The

Comédie-Française or Théâtre-Français
#o

8 : Ancienne boutique Fauré Le Page, célèbre arquebusier parisien qui distribua des armes à la foule lors de la révolution de 1830. Le même bâtiment accueillait également le Royal Palace hôtel qui ouvrit ses portes en 1909.
#o

39 : Maison où est mort Denis Diderot.
#o

40 : Emplacement de la maison où est mort Molière.
#o

43 : Emplacement de la maison où est mort le réformateur de l'artillerie française Jean-Baptiste de Gribeauval.
#o

58 : site Richelieu de la

Bibliothèque nationale de France.
#o

63 : site Hotel de Malte. Le révolutionnaire Simon Bolivar s'est logé à cet hôtel en 1806. En 1813 il a été son hote exilé Sebastián Miñano. Le général argentin Conrado Villegas est décédé dans l'hôtel le 26 août 1884. Rufino José Cuervo s'est logé à lui en 1904.
#o

69 : immeuble construit sur les plans des architectes Alexandre Maistrasse et Berger en 1904, angle de la rue Rameau. Stendhal y écrivit les promenades dans Rome et

Le Rouge et le Noir.
#o

92 : En 1839 un officier autrichien, August Zang, a ouvert sa boulangerie viennoise, qui vit l'apparition du croissant en France.
#o

100: headquarters of the

Journal

à la Belle Époque.
#o

106: Au 19e

siècle, il y avait ici le très aristocratique

Salon des Étrangers. Talleyrand en fut membre.
At the intersection with Rue Molière stands a fountain with a statue called the Molière Fountain. La fontaine Molière.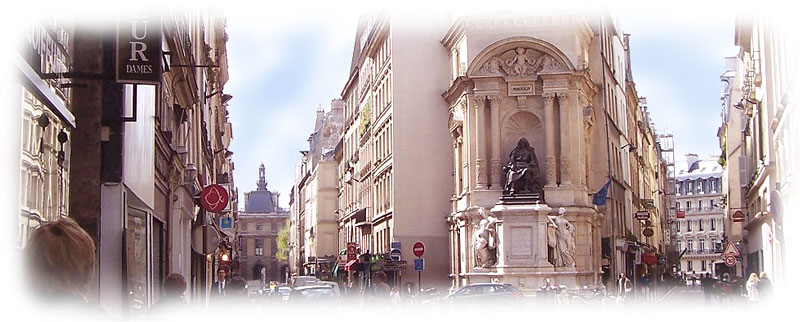 (source : Wikipedia)