Richelieu Domiciliation is ideally located at 23 rue de Richelieu in the 1st arrondissement of Paris.

We are in the heart of a golden square, between the Opera Garnier, the Bourse (French stock exchange), the Conseil d'Etat, (French Council of State, highest administrative jurisdiction) and the Louvre Museum.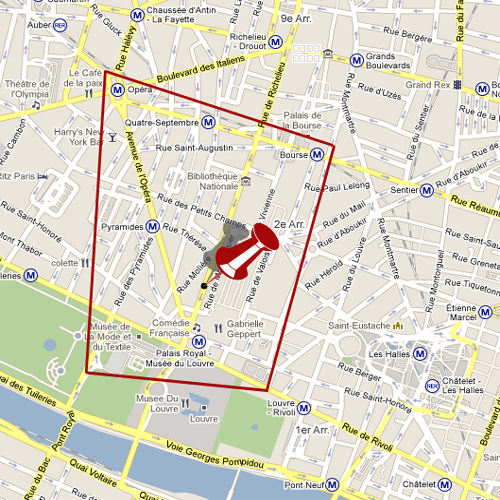 Rue de Richelieu was named after Cardinal Richelieu, prime minister of King Louis XIII. This street was opened in 1633, when Richelieu achieved the extension of the Palais Cardinal.

The first part of this street was opened on November 23rd 1633 between the current Place Colette and Rue Feydeau, then called Richelieu Gate.
On October 18th 1704, since the Richelieu Gate had been destroyed in 1701, the portion located between the current Rue Feydeau and the Grands Boulevards is opened.

This street was successively called :



Rue Royale when it opened in 1633,



Rue de Richelieu shortly after,



In 1793, during the French Revolution, she was named Rue de la Loi,



In 1806, it was named again Rue de Richelieu.

The street begins with the squares Colette and Andre Malraux, where stands the Comedie Française, and ends at Les Grands Boulevards, then changes names for Rue Drouot. On its west side, Rue de Richelieu runs along the Palais Royal gardens which are accessible by four passages from the street.
At Rue de Richelieu :



The Comédie Française or Théatre Français



No. 8: Former Fauré Le Page shop, a famous Parisian gunsmith who distributed arms to the crowd during the 1830 revolution. The same building also housed the Royal Palace Hotel which opened in 1909.



No. 39: house where Denis Diderot passed away.

No. 40: house where Molière died.

No. 43: house where died Jean-Baptiste Gribeauval, reformer of the French artillery.

No. 58: Richelieu site of the Bibliothèque nationale de France.



No. 63: Malta Hotel. The revolutionary Simon Bolivar was staying at this hotel in 1806. In 1813, the exiled Sebastian Miñano stayed there. General Argentine Conrado Villegas died in the hotel August 26, 1884. Rufino José Cuervo has housed in 1904.



No. 69: building built from the plans of architects Alexander Maistrasse and Berger in 1904, corner of Rameau Street. Stendhal wrote ''les promenades dans Rome'' et'' Le Rouge et le Noir'' there.

No. 92: In 1839 an Austrian officer, August Zang, opened his bakery, which introduced the Croissant in France .

No. 100: Headquarters of the Journal La Belle Epoque.

No. 106: In the 19th century, there was the very aristocratic Salon des Etrangers. Talleyrand was a member.


At the intersection with Rue Molière stands a fountain with a statue called the Molière Fountain.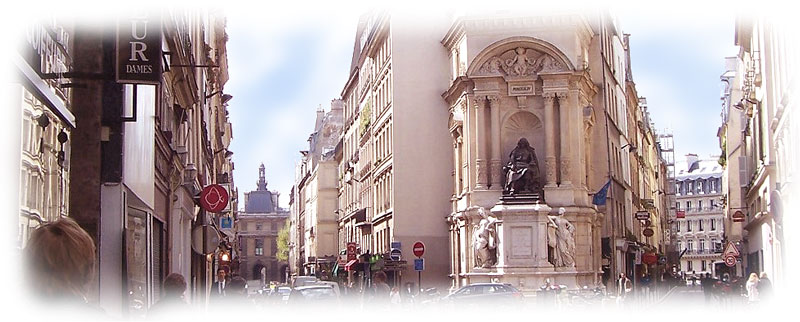 (source : Wikipedia)